* * * This website is currently in expired state. * * *
Permanent Lifting Magnet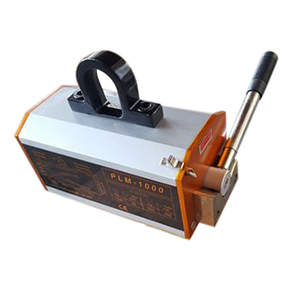 Permanent Lifting Magnet
Product Code :- CPPMLA
Permanent Lifting Magnet
Hot Selling Permanent Lifting Magnet 1000kg, available here, is designed for lifting and handling purposes of magnetic materials flat or cylindrical, iron blocks, etc. The collection is very easy as well as safe to use with safe manipulation. With safe, durable and lightweight structure, the range is ideally used as lifting devices in warehouses, factories, as well as transportation industries. Improved working conditions with enhanced performance ensure to provide high end results in varied functions. It has a powerful magnetic path developed by strong magnetic materials. The power as well as tension of the magnetic path is well controlled by turning the hand wheel. The shackles of the magnetic holder are ideally designed for lifting applications that allows you to fix firmly the components.

Model No.: CPPMLA
It is different from the CPPML type of lifting magnet in lifting ring, handle, safety lock, appearance etc.
Lifting capacities from 100kg to 2000kg
The safety factor is 3 or 3.5 times.